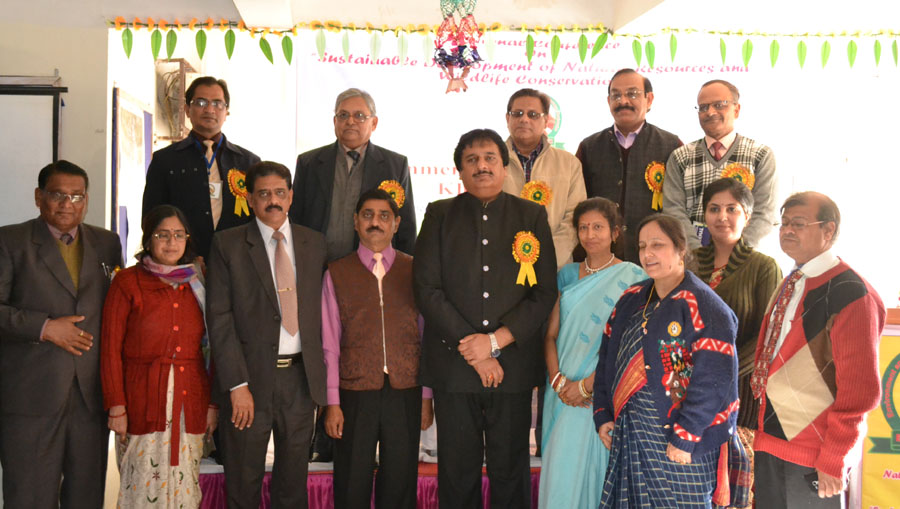 An ISO 9001:2015 certified organization
Accredited by NITI Aayog, Govt. of India, MP/2014/0076324
Environment & Social Welfare Society (ESW Society) Dedicated to Environment, Education and Sciences & Technology entire India since bi-Millennium is an ISO 9001:2015 certified organization of the India. Now it's worldwide known by its impact. ESW Society has been to develop relationship between Environment and Society envisions the promotion of Education and Sciences among the University, College and School students as well as in the society for Environment and Social welfare as well as Human Welfare.
It is registered under the society Act 1973, Government of Madhya Pradesh, India on 31 January 2000 with No SC2707. It was affiliated by Nehru Yuva Kendra Sangathan, Ministry of Youth Affairs and Sports, Government of India. It accredited by Madhya Pradesh Jan Abhiyan Parishad, Government of Madhya Pradesh, since 2013, also enrolled in Navankur Yojana with enrollment number  NV2016CHH0062 Dated 29/09/2016. It is also registered with NGO-PS, Government of India And having The NGO-Partnership System, Portal (NGO-DARPAN), NITI Aayog, (National Institution for Transforming India), Govt. of India. ID MP/2014/0076324. NGO Databases.
The main branches of Environment and Social Welfare Society are :
Godavari Academy of Science & Technology: (Dedicated to Environmental Sciences and Bio-technology). The Academy was established as prompt Science Academy in India. Goal of Academy is understand the problem, undertaking and solve them by scientific approach of Scientist or Researcher. ESW Society establish Godavari Academy of Science & Technology in 2010.
Organizing Scientific Session, Science Communication Activity, Seminar, Symposium, Conferences, Workshop, Popular Science Lecture, Interaction with leading scientist, Quiz Contest, Interactive Session on Health and Pollution Control and Career in Biological Sciences are main program aim to develop Scientific temper among students and Social workers.
Co-operating with other institute in State and in India as well as Abroad, having similar objects and to appoint Coordinator of the Academy to act National and International Bodies.
Godavari Fisheries Estate: 

Fisheries Demonstration Centre, approved by Government of Fisheries Department, Chhatarpur, Madhya Pradesh India.

(Dedicated to Aquaculture, Placement & Training)

International Journal of Global Science Research ISSN : 2348-8344‏ (Online) 
It is a half-yearly journal and invites original work in the related All fields of Environmental Sciences i.e. Biological Sciences, Agricultural Science, Anthropology and Behavioral Sciences, Animal Husbandry, Aquaculture, Biodiversity, Biotechnology, Biochemistry, Bioinformatics, Cell and Molecular Biology, Fish and Fisheries, Home Sciences, Immunology, Life Sciences, Limnology, Medical Sciences, Microbiology, Nutrition, Plant Sciences, Taxonomy, Tissue Culture, Toxicology, Veterinary Sciences, Wildlife Conservation, Zoology, Environmental Sciences, Environmental Ethic, Environmental Legislation, Environmental Impact Assessment, Environmental Management, Environmental Policies, Environmental Pollution, Natural Resources Conservation, Earth and Atmospheric Sciences, Mineralogy, Wildlife.

International Journal of Global Science Research (online) ISSN: 2348-8344 is Open access, Peer-reviewed, Refereed, Internationally Indexed, Biannual (April & October), Bilingual (English & Hindi), Subject Environmental Sciences, Impact Academic Research Journal. Index Copernicus International ICV (2016) 62.6, NAAS score (2018) 2.76, Impact Factor (2018) 3.528, DOI CrossRef 10.26540 Go to Journal Website

ISSN E-Version : 2348-8344‏
Impact Factor COSMOS Germany (2018) 3.528
Editor in Chief : Prof. Ashwani Kumar Dubey
Important links
How to reach Khajuraho:
https://www.makemytrip.com/travel-guide/khajuraho/how-to-reach.html
About Khajuraho:
http://www.khajuraho-india.org/how-to-reach-khajuraho.html
News
II International Conference Khajuraho:Click here
National Workshop on Intellectual Property Rights:Click here
National Conference on Environmental Degradation and Global Health :Click here
Indian Classical Dance and Music Festival:Click here
National Conference on Natural Resources and Wildlife Conservation:Click here